Sunsonics Technical Specifications
Solar Generator
| | |
| --- | --- |
| Continuous Output at 25⁰C | 2.0kVA |
| Continuous Output at 25⁰C (30 mins) | 2.5 kVA |
| Peak Power Output at 25⁰C (5 second spikes) | 7.0 kVA |
| Output Voltage (Pure sine wave, Adjustable) | 190 – 245V (240V standard) |
| Output Frequency (Adjustable) | 45 – 65 Hz |
| Power Output Connections | 6 x 15A 240V |
| Solar Power Input – Trailer only | 825W |
| Solar Power Input – Trailer & Freestanding array | 1.65 kW (max of 2.5 kW) |
| Wind/water power input | 2.0 kW max |
| Continuous Run Time (no solar charge) @ 1.0 kVA (typical band, PA and stage and lighting set up) | 11 Hours |
| Trailer loading (weight) | 800 kg's |
| Solar generator set up time (Trailer) | 10 mins |
PA System
| | |
| --- | --- |
| HK Audio LUCAS MAX | Compact, Hi power, Hi Fidelity Accoustics |
| Power Rating | 2000 W |
| Audience | 400 |
| LF Speaker | 1 x 15" |
| Low/Mid Speakers | 2 x 10" |
| HF Driver | 2 x 1" |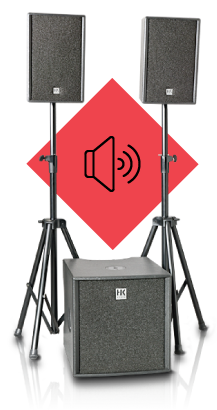 Max sound and max headroom in a package that can be toted by one person. Enhanced performance is delivered by cutting-edge components such as digital signal processors and digital amplifiers. LUCAS Max provides consistently transparent and warm sound at all volume levels, from subdued dinner accompaniment to full-blown concert sound throughout the hall.
Lighting
| | |
| --- | --- |
| 4 x PAR 56 LED Cans on bar and stand | 120 W |
| DMX lighting controller | |
| Custom lighting as required | |
Technical Sound Superiority
Generally power from the Mains Grid is "dirty power". Regular "clean" power enters homes, buildings, and offices at 60 Hz. The increased use of electrical power overloads electrical grid base, which distributes the power. Power is "dirty" or polluted when it contains the high frequency signals flowing through overloaded wires, and not just clean 60 Hz power.
The use of stored energy in sealed-lead acid or lithium batteries and pure sinewave inverters provides a very clean source of power. When used for powering a PA system and musical equipment the improvement in sound quality is staggering. The sound is superb when using power from stored energy such as a solar/battery power source and pure sine wave inverter due to the constant voltage power supply and no power supply harmonic interference.